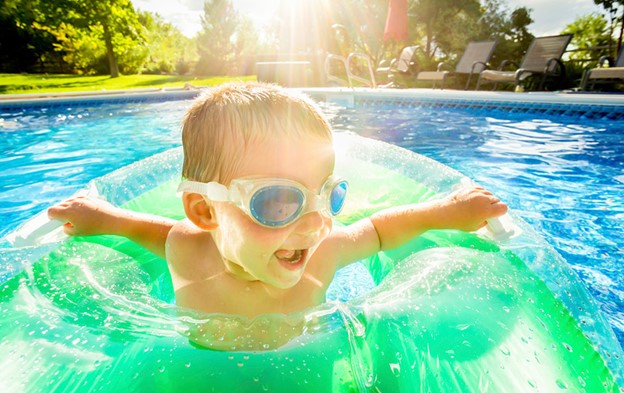 Does anything say "summer" more than floating or hopping in the pool on a hot summer day? Definitely not! Here are a few tips to make your pool a safe and enjoyable place to spend the summer.
KEEP RESCUE EQUIPMENT & FIRST-AID KIT NEARBY
In case of an emergency, be sure to have a life ring, rescue tube or life hook to pull someone. Whatever life-saving device you choose, it should be stored in the pool area and clearly marked so everyone is aware of its location. It's also important to have a well-stocked first-aid kit nearby.
LEARN CPR
If you're going to have a private pool, it's important to learn this life-saving technique. The American Red Cross offers classes that can be completed in just a few hours for this vital skill.
STORE CHEMICALS IN A SAFE PLACE
Pool chemicals can be harmful or cause injury when mixed improperly or used without protective gear. Be sure to store your chemicals in a safe place and out of reach from children.
POOL COVER
Place a safety cover on the pool or hot tub when not in use to safeguard from potential falls into an open pool or outside items from accidentally falling in.
ENFORCE POOL RULES
It's always helpful for your friends and family to know the pool rules. Hang a sign near your pool that enforces the following rules:
No diving
No running
Swim with a friend
Stay away from drain covers
Keep toys away from the pool when not in use
No tricycles or other riding toys near the pool
No electrical appliances near the pool
Swimming can be a great workout and stress reliever, and it is an exciting time for adults and kids alike. Remember these safety tips so you can enjoy the benefits of your pool days to the fullest.