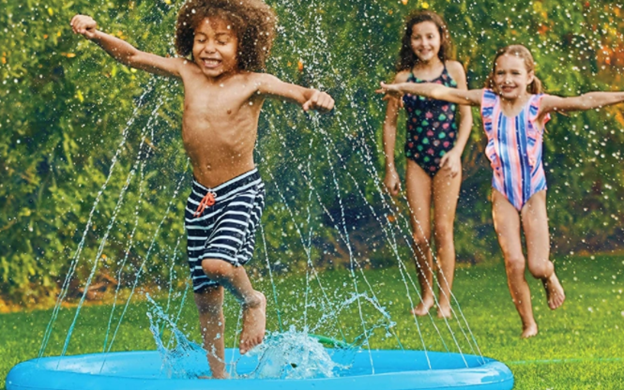 Get ready to make sun – and water – drenched memories with your friends and family this summer! Pick one (or all!) of these fun ways to cool off and splash around in your own backyard!
SPRINKLER:  Tried-and-true for a reason, there's no quicker way to beat the heat than switching on this summertime staple. Link up several to make an obstacle course.
SQUIRT GUNS:  Stash a cache of squirt guns around the yard to ensure surprise water attacks all summer long.
WATER BALLOONS:  Sibling versus sibling? Kids versus parents? Friends versus friends (or foes!)? No matter the matchup in water balloon warfare, the end result is everyone gets soaked!
ABOVE-GROUND POOL:  From kiddie pools to stock tanks to larger versions with filters, above[1]ground pools create a backyard oasis with minimal commitment.
SLIP 'N SLIDE:  Old school meets new cool. Stick with the original, or try revamped styles with fresh prints, inflatable walls and multiple racing lanes.
MASSIVE RENTAL SLIDE:  Transform your backyard into a waterpark for a day by splashing out on a giant inflatable water slide. (Call your local bounce house rental company.)
BABY SPLASH PADS:  Let the littlest of littles cool down safely with a squishy pad that hooks up to a hose and releases a gentle spray of water to play in.
BACKYARD DUNK TANK:  Take turns being the dunker and the dunked to ensure everyone gets a chance to get wet and get revenge.
SPRINKLER CAR WASH:  Hook up sprinklers to create a DIY car wash for kids to suds up their bikes, trikes and toy cars – and maybe your own ride will get clean too.