Cool Down Your Backyard During the Summer Heat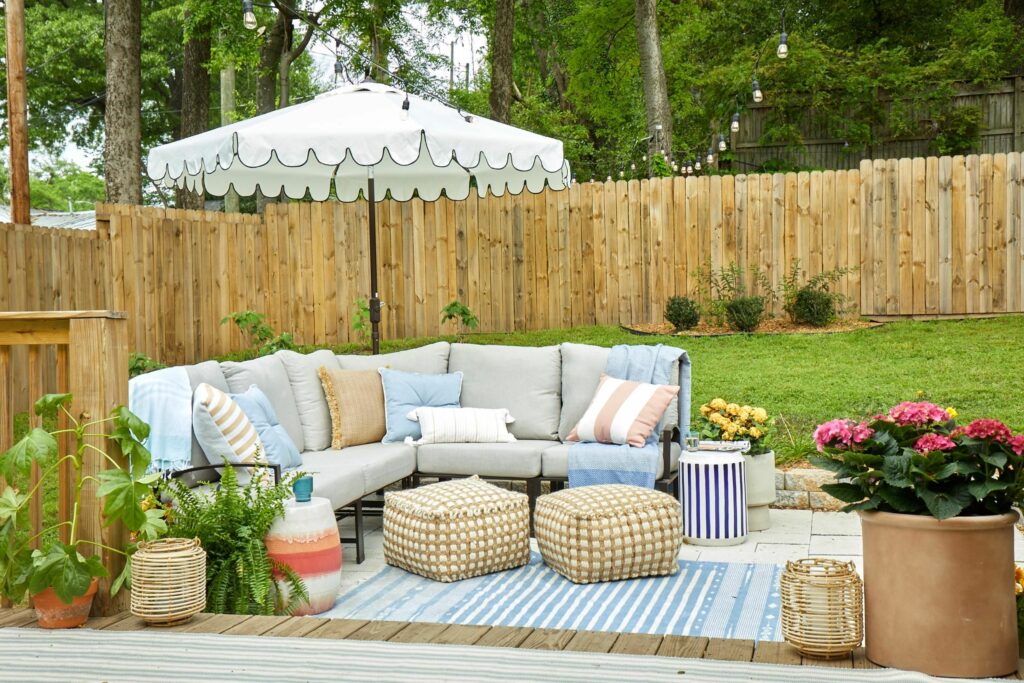 There's nothing as relaxing as kicking back and unwinding in your backyard after a tiring day, or simply just to de-stress. But when the hot weather comes around, you might be forced to stay indoors. While staying in an air-conditioned home is nice, it's not as rewarding as being able to relax with a beautiful view of nature or to stargaze at night.
Thankfully there are ways to battle the summer heat and be able to spend time in your backyard without getting sunburnt or being uncomfortably sweaty. Here a few ways that will let you and your family enjoy your yard during the summer without getting burnt, enduring the heat, or even suffering from heatstroke.
Create Shade and Block Out The Sun
Setting up shades in selected spots in your backyard is one of the easiest and simplest ways to protect yourself from the scorching effects of the sun. Shades come in handy when you want to take a nap or sit down and enjoy the fresh summer breeze. Shades may come in different forms, and here are just a few of them:
Gazebos
A gazebo provides full coverage from the sun. Gazebos can serve as the focal point for any backyard setting. You may place it to protect your seating area. And if you're handy with tools and you're feeling that itch to build, why not indulge that creative side of yours? Start tapping into that artistic mind and build yourself a gazebo that you can proudly show around and enjoy.
Awnings
Awnings are usually made out of sheets of canvas or other materials. Installing awnings is a great way of protecting your outdoor furniture and yourself from the sun or rain.
Pergola
Pergolas offer a variety of selections and functions. Usually, pergolas are placed to provide partial sheltering for a garden and a pathway. They're perfect for keeping your backyard cool and adding charm to it. A pergola, however, still allows a little bit of sunlight to shine through its slatted roof.
Shade Sails
Shade sails are made of fabric and cloth that shade a specific area in your backyard. Shade sails come in a wide variety of shapes, sizes, and colors. They can be personalized and customized. Keep in mind that the sun changes positions throughout the day, so make sure you place your shade in the perfect spot.
Patio Umbrellas
Patio umbrellas provide stylish shade and sunlight protection. These big umbrellas can come in styles that can be complementary to your outdoor furniture. You may also build your own patio umbrella if you have time. Building a DIY patio umbrella is a great way of saving money.
Some of these types of shading solutions can be expensive, but you are sure to find an option that fits your budget and perfectly suits your needs. These shading solutions will prove to be a great investment, as they can last for years to come.
Misting Kit or Misting Fans
A misting kit is a system of mist nozzles placed around the backyard area. Simply put, a misting kit is a little hose connected to your hose system that sprays mists of water. They work like sprinklers. Misting kits feature nozzles that run water through its tubes, spraying it out in billions of tiny droplets. These droplets make the air more humid, providing a cool environment in your backyard. Each nozzle of a standard misting kit consumes about 0.5 to 1.5 gallons of water hourly. The water consumption depends on the type of misting kit used. Misting kits are such a fun way of staying cool throughout the warm summer days. You and your family will surely enjoy having one in your backyard!
If you don't want to have hoses all around your backyard, then a mist fan is a useful alternative. Mist fans are a more affordable option when it comes to cooling down an area. Mist fans come in the form of floor fans that can be placed around your deck or patio. These fans have mist jets that sprinkle mist water along with the airflow. Mist fans can be connected to your garden hose, but some types have a water tank for portability. These fans add moisture to the air, leaving your backyard feeling cooler and much more well suited for relaxation. Because a mist fan cools using evaporation, it works better during dry days, but it can be very useful for any climate.
Keep Your Floor Cool
Under the effects of the blazing sun, your paver stone, deck, and other outdoor floorings can get quite hot. A hot floor can be annoying for you, your family, guests, and even pets. Scorching hot floors can also possibly cause injuries and burns. So, keeping your floor cool is essential in keeping your backyard conveniently cool.
Getting a Rug
Rugs can add style to your outdoor setting and even keep the floor safe for you to walk on. Rugs with light colors reflect the sun's rays, preventing your flooring from heating up.
Installing Cool Outdoor Flooring
There are several other ways you can protect your feet from the scalding hot floor. You can replace your flooring with a material that keeps it cool and even use cooling paint.
Powerful Outdoor Fans
Outdoor fans are great for preventing the heat from affecting you. Durable outdoor fans are built for weather, heat, and rust resistance, and they can easily cool your body down during those unbearably hot days. The wind chill effect helps lower your body's overall temperature, making you feel cooler. Depending on the size of the area you want to cover, you might need multiple fans.
Here are three types of outdoor fans you can get:
Umbrella Fans
Umbrella fans can be attached around the pole of a big patio umbrella, which helps you save space. These fans give you a fresh cool breeze while you relax under the shade.
Ceiling Fans
Ceiling fans can be placed in a gazebo, pergola, or patio. Make sure you get a wet-rated or a damp-rated outdoor ceiling fan, depending on where you plan to install it.
Heavy Duty Patio/Deck Fans
There are several options for outdoor fans. These fans come in various shapes and sizes to suit your backyard setting. Aside from keeping you comfortably cool, deck fans are great for keeping pests such as flies, mosquitos, and bugs from annoying you.
Final Thoughts
Summer seasons can sometimes be extremely hot, but they are usually the best and most eventful seasons. Summer is a time for making memories and relaxing. Don't let the summer heat prevent you and your family from enjoying your own backyard.