Get Your Maintenance On: Fall Home Projects 2022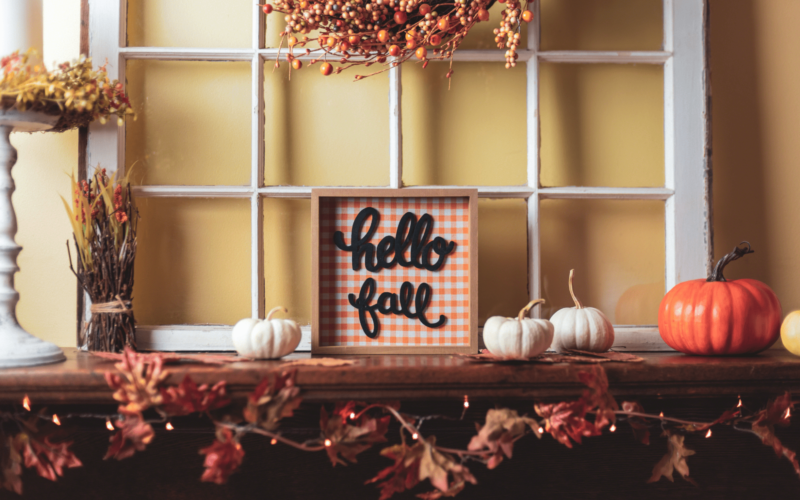 It's already fall! As more homeowners are improving their homes, we wanted to help by giving you the prime fall home improvement ideas this year. Read on to find out what should be on your fall home improvement checklist this year!
Take it outside
Homeowners are interested in putting money towards exterior projects. This includes porches, patios, decks, and landscaping.
Give your home's exterior a fresh coat
Get out your paint brush! Fall is a great time for exterior painting. With only a few rainy days, less humidity, and minimal temperature fluctuations, the mild autumn weather allows your paint to spread smoothly and cure properly, the latter which can take several days.
Replace deck boards
Give your deck some much-needed attention. It's been a long summer, and this year, you've likely enjoyed your deck more than usual by grilling weekly and remote working outside. So give your deck the attention it deserves and replace any wearing boards. If you're not extremely DIY inclined, hire a professional to complete this task for you.
Beautify your outdoor space
Perennials and other flowers flourish in the fall. Autumn is one of the most visually appealing seasons, and you can enhance your yard with the usual cleanup duties – raking leaves and trimming trees. However, now's also the time to remove any vegetable plant debris, plant spring bulbs, or add some additional accents to your landscape, such as chrysanthemums, pansies, and aster. (If any trees are too high to trim and threaten your roof's structure, make sure to contact a lawncare and tree specialist to take care of them.)
Fall home improvement tips and maintenance projects
Renovate rather than add on. Rather than adding more room to their homes, homeowners are working with what they have.
Less interested in additions and are more interested in reworking the confines of existing walls. Homeowners are looking to improve upon what they have already – particularly with kitchens and bathrooms.
Now is also the time for homeowners to tackle practical improvements and maintenance. Heating has got to be the first thing to address if your system needs upgrading, followed by electric.
Check and add insulation
Insulation can help prevent chilly toes. It's a good idea to fix any insulation concerns, particularly in attics and by windows. This ensures that the heat is not escaping too quickly, which would drive your bill up."
Weather stripping around doors and windows takes only a few minutes with window film or caulk. You can also install new door sweeps, which can keep the cold outside and warmth inside. For quick upgrades, hang insulated curtains and plug up any holes at the bottom of your door with a door snake.
Also, head up to your attic to make sure you have adequate insulation. If you see that your insulation is below your attic floor joints, your home probably suffers from air leaks and needs more insulation. Also, if you see low spots in your insulation, you'll need to add more as insulation should be even across your attic.
Clean your gutters
Get up on your ladder twice a year. Everyone's favorite pastime – cleaning the gutters!
If your gutters are clogged due to leaves, you can have a blockage. The downspout (part of the gutter that brings water to the ground) needs to be operating in top condition to take water away from your house.
In the wintertime, blockages in the gutters or downspouts can create ice dams and damage at the structural level. Cleaning your gutters prevents ice dams from forming.It can cause water to leak inside the basement. It's not good for a house foundation either and can cause it to crack if the damage gets too great. You always want to get the water flowing away from your house, especially in the cold winter months.
Unsteady on a ladder? Hire a roofing professional who will not only clean your gutters but also inspect your roof for any potential damage.
And of course, heating maintenance
Don't neglect your heating system! We'd be remiss if we didn't mention that fall is a good time to get your heating system serviced.
In the fall and winter homeowners typically address heating concerns for practical reasons with the cold weather coming up.
This includes getting your HVAC unit or furnace serviced to make sure it's working properly. You should also replace your furnace filters or HVAC filters, as this helps with air quality and energy efficiency.
Air filters need to be cleaned or replaced as frequently as every month or as rarely as once a year. (Most require replacement every season or every three months.)