Your 2023 Spring Home Maintenance Checklist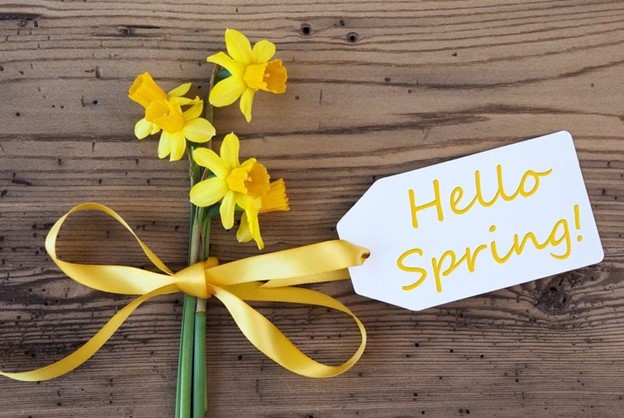 Spring is a season of transition, with plenty of temperature ups and downs. But the ups do gradually outnumber the downs, meaning it'll soon be safe and pleasant for you to head outdoors once again.
But before you dive into the joys of spring, you've got some work to do at home. Here are 16 things to cross off your home maintenance to-do list this season, both inside and out.
1. CHECK YOUR RAIN GUTTERS
Presumably you already did this back in the fall, but re-check to ensure you have a clear and clean path so that rainfall flows smoothly.
2. CHECK YOUR SHINGLES
Spring is a good time to check in on the literal roof over your head to see if any repairs are needed before spring and summer rains come.
3. SCAN THE BASEMENT FOR LEAKS
Spring is a wet season, and is a good prompt to head downstairs to see if there are any cracks in the walls through which water can enter. Be especially observant for signs of mold.
4. INSPECT THE ATTIC
As below, so above! Head on to the attic (safely and with help from a friend or spouse) to check for any signs of leakage. One other thing to watch for: Signs of any unwanted animals that managed to scurry in during the winter.
5. SERVICE YOUR AC AND FURNACE
Spring is a season of transitory temperatures, so this is a good opportunity to make sure both your AC and furnace are in working order, with some providers even offering one complimentary service call per year.
Also, take a quick gander at your drier vent as well, making sure to keep it clear.
6. DIVE INTO SPRING CLEANING
You've been cooped up inside for months, and now temperatures are high enough that you can fling open the windows and let in some fresh air, it's the perfect opportunity to give the house a good clean! Don't forget as well that decluttering is part of cleaning, and aside from the mental health benefits of having a tidier home, it's also a method to keep allergens at a minimum.
7. ADJUST YOUR THERMOSTAT
Spring temperatures may be variable, but the ups and downs will feature more ups than downs. Adjust your thermostat as it warms up, to get an early start on managing energy costs.
8. CHECK SMOKE ALARMS AND FIRE EXTINGUISHERS
All this home maintenance won't amount to much if a fire breaks out in your home. Use the change of season as another opportunity to check in on your smoke and CO2 alarms, and replace batteries if needed. Don't forget your fire extinguisher as well, which should be serviced and inspected regularly.
9. CHECK FOR STRUCTURAL CRACKS
You've already swept the basement for leaks, now it's time to head outside and take a look at your home's exterior, being especially attentive if you already saw signs of leakage downstairs. Any cracks that you spot should be monitored and sealed when you have the opportunity.
10. CHECK FOR CRACKS IN YOUR DRIVEWAY AND/OR PATIO
In fact, apply this step to every outdoor walkable surface. You'd be surprised at how much you can extend your driveway's life by being diligent about sealing cracks and doing a surface refinish every few years.
11. GET AHEAD OF DECK MAINTENANCE
If your home has a deck, it's spent the past few months exposed to the cold, and will need at least a look-over. Be prepared to at least pressure wash it, and look for signs that it needs repairs or sanding and resealing. As with your driveway, you'll be doing future you a favor.
12. CHECK EXTERIOR LIGHTS
You'll be spending a lot more time outside as the nights get warmer. Might as well check your exterior lights, and replace bulbs that need replacing. This applies to both main house lights, and smaller little garden or pathway lights.
13. CHECK YOUR EXTERIOR FAUCET
Hopefully you remembered to turn off the water supply to your exterior faucet and then open and drain it before temperatures fell. Now they're back above freezing, its time to restore the water to that faucet, and take a moment to let it run for a bit while you check for signs of cracks in the pipe.
You wouldn't want to find any AFTER you've just spent some time running it to water the garden or washing your car.
14. GET READY FOR GARDENING!
Houseplants are nice, but for the more horticulturally minded, nothing beats really getting down into the dirt in the spring to give your garden the best possible start.
15. CHECK AND SERVICE YOUR LAWNMOWER
Your lawnmower and other electric tools you'll need to tend to your yard have been in a cold shed for months. Beyond gassing up your mower, it'll need more servicing in the form of an oil change, new spark plugs, sharpening the blades, and others. Consult your mower's manual for the best way to care for it.
16. GET OUT YOUR OUTDOOR FURNITURE AND BARBECUE
Once you've got the ball rolling on your yard, you'll want to start hosting family and friends. Get out, and clean, your outdoor furniture, then focus on your barbecue, thoroughly cleaning it and swapping out the propane tank if needed. As for cleaning the grill, believe it or not, an onion actually makes a pretty good go of it.